THANK YOU TO OUR 2017
FUNDRAISING CONCERT DONORS:
LEAD SPONSORS
First Security Investments, LLC
and
MCR Health Services

PLATINUM SPONSORS
Dennis & Graci McGillicuddy
Hyatt Regency Sarasota
Charlotte Perret

Please plan to attend our April 30, 2017 fundraising concert, 4PM, at St. James United Methodist Church, 2049 Honore Avenue, Sarasota, as we support Family Promise and Community Haven – two important non-profits in our community focusing on helping homeless families and people with special needs.

THANK YOU TO ALL WHO SUPPORTED US THIS PAST SEASON. Because of you we were able initiate our student intern program, to distribute over $5,000 to the Healthy Start Save a Life Program and the Yummy Stuff Club – local non-profits working to ensure that local children and babies are provided with the nutrition needed to be healthy and to donate to the S. Carroll Buchanan Fund at the Community Foundation which is designed to support young people in the arts.

THANK YOU TO ALL WHO SUPPORTED OUR 2015 GIVING PARTNER CHALLENGE*. Because of you, matching grants from the Patterson Foundation, and an anonymous donor, we raised over $5,000 toward our new Student Intern and Training Program.
* The 2015 Giving Challenge is made possible by the Community Foundation of Sarasota County and The Patterson Foundation with support from the William G. and Marie Selby Foundation, John S. and James L. Knight Foundation, Manatee Community Foundation, and the Herald Tribune Media Group.



About the Choir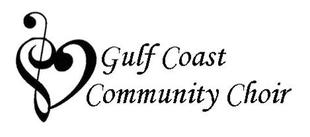 The Gulf Coast Community Choir, which was formed in 2000,

obtained its 501(c)3* Charitable Organization designation in 2012. It

is a multicultural adult group made up of volunteer singers from

the

Manasota

area.

All have had experience singing with other choral groups,

some have had formal

musical training, and a few have sung professionally. Our members come together to

support our community

through benefit concerts.
The choir's mission is to raise funds for worthy charities in the area.

The group has received many accolades for its work, including the key

to the City of Sarasota, which was presented to the choir in 2001.
Board of Directors: Dr. Edwina Stanley, President and Choir Director; Carol Poteat-Buchanan, Vice President and Business Manager; Evelyn Miller, Secretary; Steve Wicker, Treasurer; Ken Beck, Financial Secretary; Marilyn Davenport, Director at Large and Accompanist; Karen Chester, Michelle Carroll and James Lawrence, Directors at Large.
---
*501(c)3 Registration #CH37303. GULF COAST COMMUNITY CHOIR MEETS ALL REQUIREMENTS SPECIFIED BY THE FLORIDA SOLICITATION OF CONTRIBUTIONS ACT. A COPY OF THE OFFICIAL REGISTRATION AND FINANCIAL INFORMATION MAY BE OBTAINED FROM THE DIVISION OF CONSUMER SERVICES BY CALLING TOLL-FREE 1-800-435-7352 WITHIN THE STATE. REGISTRATION DOES NOT IMPLY ENDORSEMENT, APPROVAL OR RECOMMENDATION BY THE STATE. REGISTRATION NO. CH37303.
_